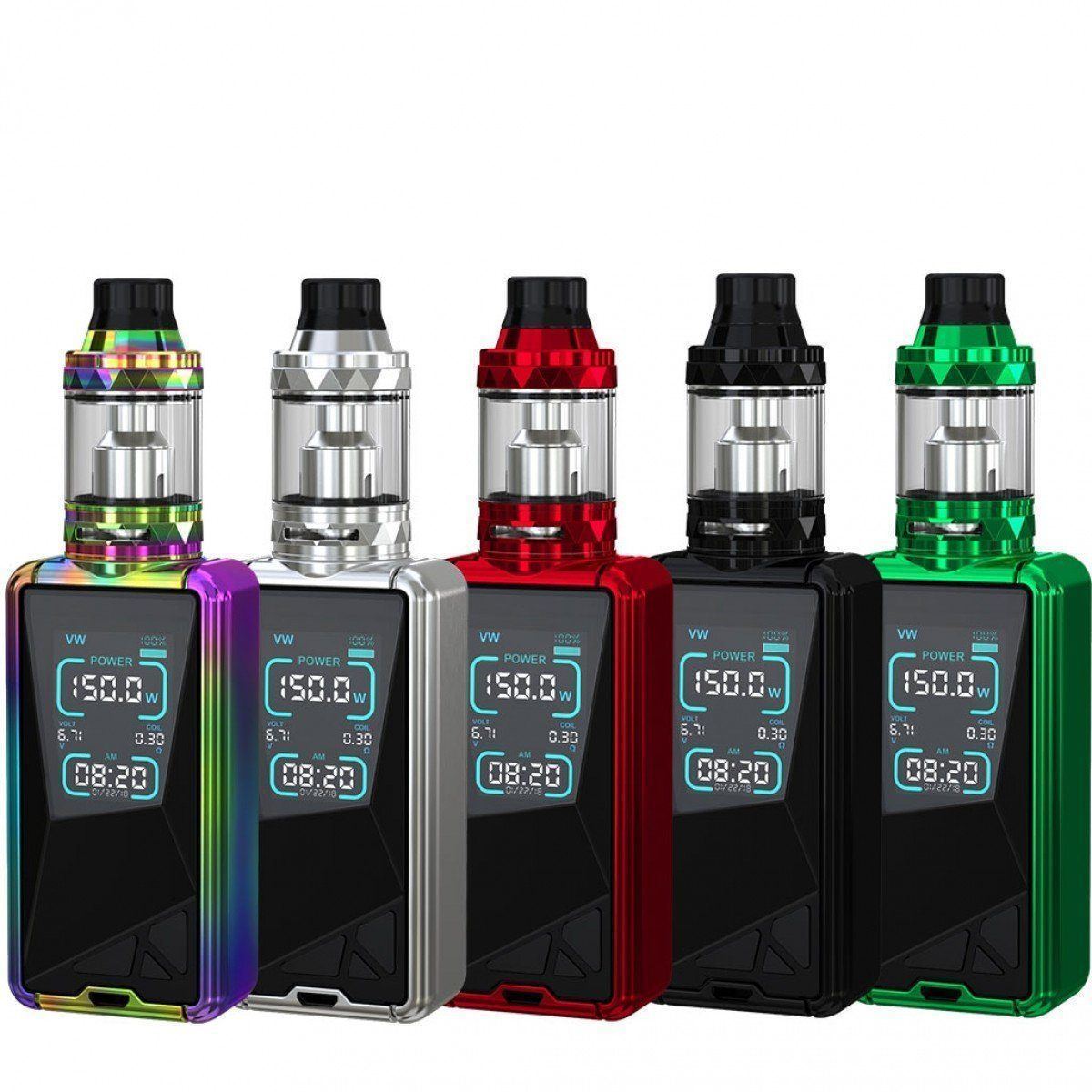 eLeaf Tessera Review
Hello Freeman vapers! We have got the eLeaf Tessera review for you today! We don't sell hardware, we don't have a dog in the fight, our reviews are just for your information. We decided to take a look at the Tessera because it is a complete kit with internal battery that you can get for about $60. That seems like a pretty good deal. Especially for a first sub ohm kit. Let's see if it is worth it.

The eLeaf Tessera vape mod is a 150 watt mod with temperature control capability. The internal battery has a 3400 mAh capacity. The mod will sell for anywhere from $40 to $50.
If you get the kit, it comes with the ELLO TS tank. The ELLO TS is a 25 mm diameter top-fill tank. This kit will sell for about $50 to $60. If you see it being sold for a ridiculously low price, be forewarned that it might be a counterfeit. Always get your vape gear from trusted, verified vendors. Check eLeaf product authenticity here.
What can I say to kick off this eLeaf Tessera vape review? It is made by eLeaf which is known for making decent, affordable mods. These are not high end devices but they can be enjoyable to vape. The new ELLO TS tank is pretty solid for vapor. But to really get this show on the road, I want to start by saying who this mod kit is for.
Who Is The eLeaf Tessera ELLO TS Vape Kit For?
I want to start by mentioning a couple of the things that I like. For an all-inclusive kit, I like the internal battery. If this will be your first sub ohm vape, the internal battery can simplify things for you. Internal batteries also mean that you don't need to buy separate batteries and a charger. For these reasons I see the Tessera mod kit being a good fit for new sub ohm and temp control vapers. If you don't have batteries and a charger, that's okay because you don't need any extras with the Tessera.
The other thing I like is the display screen. The screen is big, colorful, and easy to read. Vapers can change colors if they want. Even my mom, who hates technology, could use the eLeaf Tessera. She wouldn't need the reading glasses. The crux of the eLeaf Tessera review would be that it is an affordable, attractive, easy to use sub ohm mod.
Will you be walking around vaping this a year from now? Probably not. And that's okay. That's normal. Built in batteries lose juice over time. It may very well last two years and lose only 25% battery efficiency in that time. It all depends on how you use it and how much you use it. It is a budget friendly vape.
eLeaf Tessera Review
Time for the nuts and bolts of the eLeaf Tessera review. What is this thing all about? First, it is a classic box mod design with rounded corners for comfort. The Tessera is 82.8 mm tall, 42 mm wide, and 30.5 mm thick. In terms of size, it is not quite as wide as a typical dual 18650 box mod but is the same height and thickness. The bottom line is that this is a comfortable size to hold and handle.
There is no fire button, instead it is a fire bar like a Smok mod. The up, down, and mode buttons are located on the face of the device. Not all vape mods have a mode button. The mode button makes it quicker and easier to access the menu and change vaping function. The 510 is centered which I consider a plus. You can use atomizers with a diameter of up to 25 mm with no overhang. It is not a touchscreen mod.
Tessera Vaping Modes
It wouldn't be much of an eLeaf Tessera 150 Watt mod review without telling you about what it does. This mod will fire from 1 watt up to a maximum of 150 watts. In variable wattage mode it will fire atomizers as low as 0.1 ohms up to 3.0 ohms. In temperature control mode the range is 200F to 600F and will fire atomizers as low as 0.05 ohms. You have Nickel, Titanium, and Stainless Steel coil wire options. Plus, you have TCR.
To switch from variable power to temperature control can be done by accessing the menu. Or you can bypass the menu and use the mode button. You see the mode button is another reason I could give my anti-technology mom this mod and she could make it vape. You know, my mom can operate sophisticated medical equipment but she doesn't like to be bothered with the nuances of home electronics. I don't get it. Anyway, let's move on.
Using The eLeaf Tessera Mod
Using the eLeaf Tessera is straightforward. I found that the screen clarity and size helped. The menu system is easy to access. To get into the menu click the fire bar three times or use the mode button. You can switch the vaping mode from variable power to TC quickly. It also has a power mode, or RTC mode, but you don't really need that. I wouldn't worry about using the RTC mode. Stick with variable power or temp control.
There are a lot of features here. You can switch up the display, change colors. Upgrade the firmware, set the clock, and set ramp ups for your vape. The eLeaf firmware is decent. In temp control you get a stable performance. You don't get high performance and you won't win a cloud competition, but you will enjoy great vaping.
I checked with the company before publishing the eLeaf Tessera review. The mod is made of zinc alloy. The build quality is very good, especially for a lower budget device. The front and back panels are a type of plastic with raised decorative triangles. It feels very comfortable in the hand. Like the Geekvape Blade that came out in early 2018, the Tessera is lightweight. That seems to be a trend. The buttons click nicely and there are no rattles.
Charging The eLeaf Tessera
Some people are reluctant to buy a mod with an internal battery because it can take a while to recharge. After our eLeaf Tessera review, I have some good news. The 2 amp charging will recharged the 3400 mAh battery in two to three hours. That is a very fast recharged time.
eLeaf was able to provide a faster recharge time for this device thanks to internal temperature monitoring. The firmware includes a safety feature that monitors battery temperature during charging. This way, the Tessera can be charged quickly and safely.
eLeaf Tessera 150 Watt Mod Review Specs
This part of the eLeaf Tessera review is the factory specs. Bet you thought I would forget!
The Lightweight Tessera Weighs Just 190 g
The Battery Capacity Is 3400 mAh
Maximum Re-Charging Current Is 2 Amps
510 Thread
Variable Wattage Range Is 1W Up To 150W
Tessera Voltage Range Is 0.5V To 8V
Vaping Modes Are VW/RTC/TC(Ni/Ti/SS/TCR)
Atomizer Resistance Range In TC Modes Is 0.05 - 1.0ohm
Atomizer Resistance Range In Variable Power Mode Is 0.1ohm to 3.0ohm
Comes In The Following Colors: silver, black, red, green, dazzling
eLeaf Tessera and ELLO TS Vape Kit
The Tessera vape kit comes with the ELLO TS 25 mm diameter vape tank. Should you buy the Tessera ELLO TS kit or just the mod? To be honest, the ELLO TS tank is not as good as the mod. It is a decent tank and you get it cheap with the kit but it is not a great tank. Especially for flavor. It produces great vapor but the flavor could be better. There are no issues with a vape leaks and it is well made. The sliding top-fill design is great. The drip tip is Delrin but not interchangeable with other tips.
I would put it this way. If you don't have a sub ohm tank, get the kit because you get a decent tank for a cheap price. If you already have a tank you like, just get the mod by itself.
If you do decide to get the Tessera and ELLO TS kit there is a 4 ml version and a 2 ml version. The 2 ml version is designed to be compliant with European standards but you can buy it in the States, too. Asked to choose between the two, I would take the extra juice capacity and get the 4 ml version.
Best Vape Juice For The eLeaf Tessera ELLO TS Kit
This is a no doubter! The best vape juice for getting beautiful flavor and vaping from the eLeaf Tessera kit is Freeman Vape Juice! Are we biased? Yep! And proud of it.
Obviously you will use whatever juice you want. But Freeman Vape Juice is an 80/20 VG/PG blend that is an ideal ratio for vapor and flavor. The quality and value of our juice is something we are very proud of. Each of our nine flavors is meticulously crafted. The 120 ml vape juice bottles are made and sourced in the USA. Best of all, our 120 ml juice sells for less than other brand's 30 ml bottles. It's just a smarter, sweet vaping e-juice.
eLeaf Tessera 150 Watt Mod Review Summary
The eLeaf Tessera 150 watt vape mod review summar is this:
Very good eLeaf mod at a low price
A good first sub ohm TC mod
Built in batteries so no extra purchase required
That's it. The Tessera is a good mod. If you vape at 50 watts, which most people do, it is a comfortable, portable, and reliable vape. If you are serious about your vape clouds, then you will want something with more responsiveness and capability. Overall, and excellent value for your money.

Before you go, don't forget to check out our latest discount vape juice deals. It is a great time to be a vaper!